Transport #55 made it safely north and all of the passengers were warmly received and are settling in. Pulling will begin anew for #56 soon, but we would like to share the story of a special case. One of our volunteer's has committed a big no-no, she pulled a dog without a rescue commitment.
Meet Rosie, all 32 lbs of her! She is Dane x Lab and a happy go-lucky puppy at only 4 months old, but what makes this Black Georgia Dog so special? During the scramble to get the dogs ready for Transport #55, our volunteer saw Rosie at the shelter in a run with many other black puppies, but something about Rosie made her shine.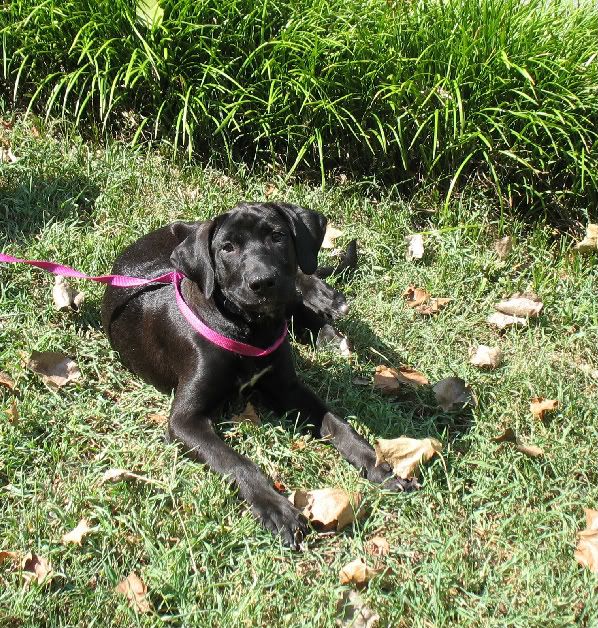 Sometimes the heart knows better than the brain, although it was too soon begin Transport #56, we said yes. We are very glad we did! Rosie was on the euth schedule and our volunteer snatched her from the hands of fate. Now Rosie is safe in foster care, but we still need help with her vet bills and bus fare.
Spay: $60
Vaccinations: $30
Bus Ticket Home: $75
Total for Rosie: $165
Maybe you have a Big Black Dog in your life who would like to chip in for the underdog. Please help this special girl make her way home!
About Saving Shelter Pets:
Saving Shelter Pets (SSP) strives to eliminate euthanasia as a method of population control for homeless companion animals, by providing no-kill alternative solutions and pro-actively addressing the problem of pet overpopulation.

SSP is a nonprofit, 501(c)(3) organization with supporters nationwide. Please see our FAQs for more information.

NOTE: The animals pictured in this or any other message are NOT available for adoption. We do not have the resources to properly screen adoptive homes. We send our dogs and cats to pre-approved no-kill rescues in the Northeast, and these rescues will then adopt them into wonderful forever homes.