Round two of our giftcard giveaway fell short of the $2000 goal so there was no drawing. We did raise $700 to help out our medically needy doggies.
THANK YOU to all who donated!!!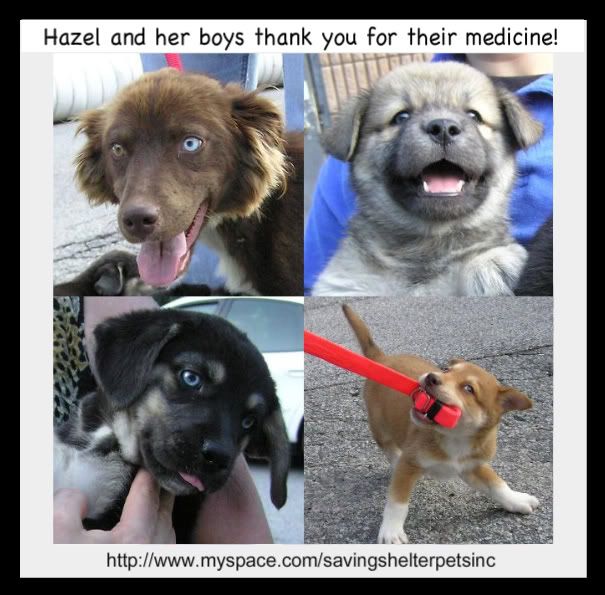 Hazel and her boys are well on the road to recovery. We will get some updated pictures from the boys' foster mom shortly, but here's what she has to say about her new charges.
Hazel's boys look GREAT!!! They are SO much bigger then when they came out of the shelter. I'm struggling to take some good pictures because they are on the move! I'll try to get some good ones when they run themselves down and it's time for a puppy nap. I'm so thankful they have pulled through, they are pure sunshine. Thank everyone who made this possible, these pups are absolutely ADOREABLE!!!
About Saving Shelter Pets:
Saving Shelter Pets (SSP) strives to eliminate euthanasia as a method of population control for homeless companion animals, by providing no-kill alternative solutions and pro-actively addressing the problem of pet overpopulation.

SSP is a nonprofit, 501(c)(3) organization with supporters nationwide. Please see our FAQs for more information.

NOTE: The animals pictured in this or any other message are NOT available for adoption. We do not have the resources to properly screen adoptive homes. We send our dogs and cats to pre-approved no-kill rescues in the Northeast, and these rescues will then adopt them into wonderful forever homes.