We have shown you many pictures of the puppies hoping for a ride on Transport 58. There are so many cute faces, but what you may not know is, although the puppies are all signed up for our Puppy Promises Program, they are by no means safe, yet.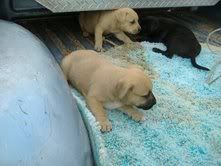 Some owners are very thankful to be a part of this program, and do everything they can to make sure the puppies stay safe and healthy until they leave. Some puppies are not so lucky.
Our program focuses on rural areas where it is not uncommon for people to "dispose" of their pets. Even after signing up the puppies, some people have allowed them to run loose in wooded areas, or to roam the streets. Puppies have been lost through antifreeze poisoning, taken by wild animals, and in one case all three puppies in one litter were "accidentally" run over by the owner's car.
These babies are not just hoping for a bus ticket, but their survival could depend on it. If you have not donated already, please do so. Each donation of $10 or more will be entered into our $100 Visa gift card drawing, and each donor receives a "Puppy Kisses" banner for their webpage/myspace page.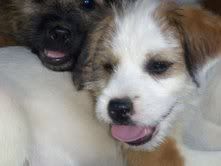 To who already donated, on behalf of all the Puppy Promises Puppies,THANK YOU so very much. Without your generous support, we could not give these pups their happy endings or bright new beginnings. Please continue to crosspost this bulletin, so many babies depend on it.
Total Cost: $2350
Donations: $915
Needed: $1435
NOTE: Scruffy received several generous donations yesterday and today.
He is now FULLY FUNDED and ready to start his Heartworm treatment!!! Thank you to all who donated to give this boy a new life!

About Saving Shelter Pets: Saving Shelter Pets (SSP) strives to eliminate euthanasia as a method of population control for homeless companion animals, by providing no-kill alternative solutions and pro-actively addressing the problem of pet overpopulation. SSP is a nonprofit, 501(c)(3) organization with supporters nationwide. Please see our FAQs for more information. NOTE: The animals pictured in this or any other message are NOT available for adoption. We do not have the resources to properly screen adoptive homes. We send our dogs and cats to pre-approved no-kill rescues in the Northeast, and these rescues will then adopt them into wonderful forever homes.