***All funds raised for both girls!!! Thank you to all of our supporters for making this happen!***
We haven't had much room on our last few transports for adult dogs, but there are two little girls from Dekalb who would LOVE to catch a ride on the next bus. We have until Friday to raise their funds so we can go bail them out.
Faline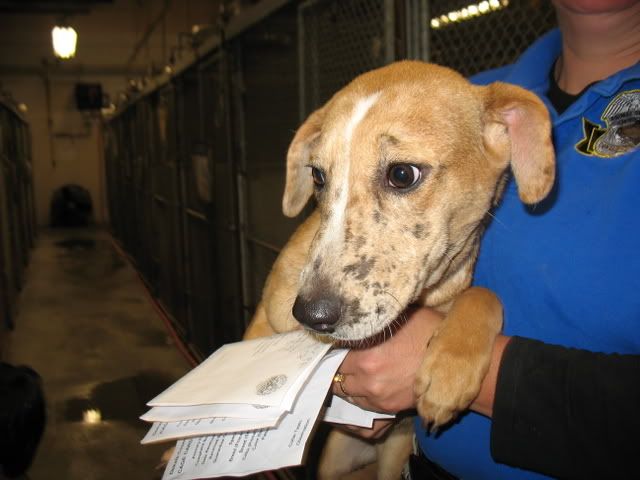 This sweet girl has been waiting for a MONTH to find her forever home. No one is looking for her, we are her last chance. The clock is ticking and she needs out NOW! Faline needs $280 for her vet care and boarding expenses.
Tilly
Look at this sweet face! How could someone neglect such a sweet girl? They did, she had an embedded collar that had grown into her neck 1.5 inches. Now that the case has been settled she can leave the pound, but she needs out and into a loving home. Please help her get the second chance she so deserves!!! Tilly needs $300 for her vet care and boarding expenses.
Total Needed: $580
Donations: $580
Still Need: $0
The Deadline to raise their funding is Friday!!! Please spread the word so we can get these girls on to their new lives. They have been given a reprieve but we are their only hope!
About Saving Shelter Pets:
Saving Shelter Pets (SSP) strives to eliminate euthanasia as a method of population control for homeless companion animals, by providing no-kill alternative solutions and pro-actively addressing the problem of pet overpopulation.

SSP is a nonprofit, 501(c)(3) organization with supporters nationwide. Please see our FAQs for more information.

NOTE: The animals pictured in this or any other message are NOT available for adoption. We do not have the resources to properly screen adoptive homes. We send our dogs and cats to pre-approved no-kill rescues in the Northeast, and these rescues will then adopt them into wonderful forever homes.