*****ALL FUNDS RAISED!!! THANK YOU TO ALL OUR SUPPORTERS!!!*****
Tilly and Faline are happily checked in at the vet's office. They were very excited to be free of the shelter and both girls will be getting a bath shortly! Our volunteer sent this to us when she got home from the vet's office:
"When I stopped by Dekalb A/C today to pick up Tilly and Faline, I was struck by this little family. These two look like AmStaff mixes, but are listed as Pit so are not eligible for adoption to the public. Mother and son are very sweet and willing to please. Mom is about knee high with the blocky head and broad shoulders, son has the same shape, but he is still a young puppy. They have been waiting and waiting since the beginning of September for rescue, and are favorites of the ACO. We have until Saturday to find them somewhere to go. LOTS of kisses out of both dogs and they really wanted to play with my 4 year old son. These two really deserve to get out, the bullies never stand a chance."
Shortly after, we received this picture of Mom and Tuffy.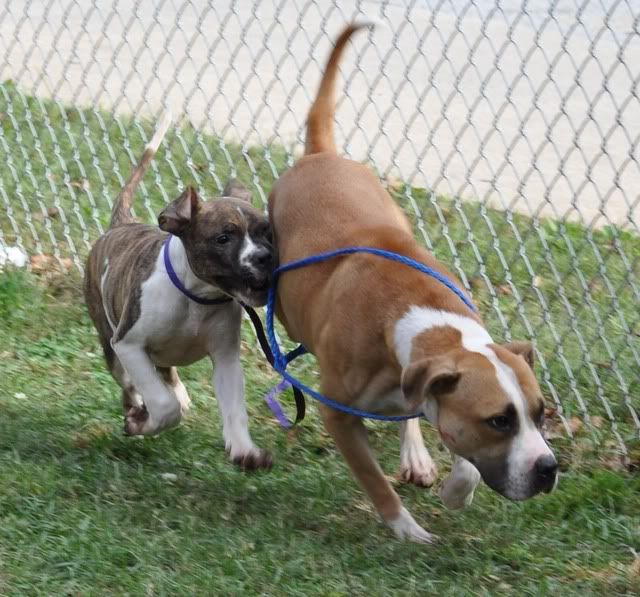 After many rapid emails and phone calls, we have found a place for these two to go, but we still need to raise their funds in order to bail them out of Dekalb. Mom and Tuffy each need $200 for vetting and boarding. If you love a bully or are loved by a bully, please consider donating a little for this family.
Total Needed: $400
Donations: $370
Still Need: $30
About Saving Shelter Pets:
Saving Shelter Pets (SSP) strives to eliminate euthanasia as a method of population control for homeless companion animals, by providing no-kill alternative solutions and pro-actively addressing the problem of pet overpopulation.

SSP is a nonprofit, 501(c)(3) organization with supporters nationwide. Please see our FAQs for more information.

NOTE: The animals pictured in this or any other message are NOT available for adoption. We do not have the resources to properly screen adoptive homes. We send our dogs and cats to pre-approved no-kill rescues in the Northeast, and these rescues will then adopt them into wonderful forever homes.