Greetings Saving Shelter Pets supporters!! We hope you are doing well, and preparing for that end-of-year holiday season. Before all the rushing around gets underway, we would like you to check out a few ideas from SSP to help us, help the animals, and help you get ready for the holidays.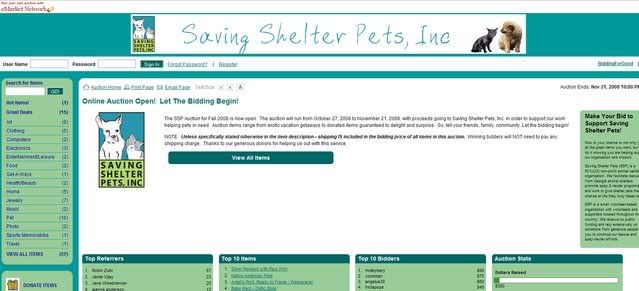 SSP Online Auction – Only a few days left!! The auction closes Friday at 10pm EDT, so don't miss your opportunity to get some sweet deals on some fabulous items! If you have been thinking about bidding on something – now is the time! For those who have already placed bids, check the bidding action on your items and don't let that "must have" piece slip away! We've added a number of great new items since the event began, so even if you looked through the site early on – please feel free to browse the catalog again. We're looking forward to a big finish here, and we invite you all to join us in following the bidding action closely as it plays out this week.

SSP Auction website: www.savingshelterpets.cmarket.com



SSP Calendars – On sale now!!

These handsome wall-hanging calendars will add a splash of color and cuddly cuteness to your office, kitchen, or dorm room. They make great holiday gifts too – get several for your friends & family, your vet office, your co-workers or employees, even the mailman! Display yours prominently, to remind everyone who sees it that shelter animals deserve a chance at life, and SSP works to give that to them. Orders must be received by 12/1 to guarantee availability, so order yours today!! Cost is $17 each plus S/H ($3.95 for the first calendar plus $1 for each additional one), and orders placed by 12/1 will be delivered by mid-December.

SSP Calendar website: www.yearbox.com/ssp



SSP CafePress Holiday Cards – Available now!!
Looking for the perfect holiday card to send to your friends & family this year? Look no further, because SSP has it covered! Our CafePress store has several adorable card designs to choose from, designed by Jamie herself. And while you're there, feel free to browse the other store items for some fantastic holiday gift ideas!
SSP CafePress website:
http://www.cafepress.com/ssp1



As always, Saving Shelter Pets appreciates your support of our fundraising programs, so that we can continue to help pets in need. We are grateful to have supporters like you working with us to make a difference for the animals!!
About Saving Shelter Pets:
Saving Shelter Pets (SSP) strives to eliminate euthanasia as a method of population control for homeless companion animals, by providing no-kill alternative solutions and pro-actively addressing the problem of pet overpopulation.

SSP is a nonprofit, 501(c)(3) organization with supporters nationwide. Please see our FAQs for more information.

NOTE: The animals pictured in this or any other message are NOT available for adoption. We do not have the resources to properly screen adoptive homes. We send our dogs and cats to pre-approved no-kill rescues in the Northeast, and these rescues will then adopt them into wonderful forever homes.