ALL FUNDS RAISED!!! Thank you to all of our supporters who have, not only saved another pup, but also made a little girl's Christmas Wish come true!!!
It has been a crazy day today for our Puppy Promises Manager. The phone has been ringing off the hook for more pups who want to leave on the Home for the Holidays van.
First, a litter of 11 puppies were found in a ditch near a river. Then another litter of puppies were found abandoned on the side of the road - a whole plastic tote of puppies whose mother was hit by a train, orphaned at only 2 and a half weeks.
Then there was a call that was not like the others. One of our vets was on the phone. He had a sick little girl in his office who had brought in a 6 week old black puppy. Someone had thrown the puppy out of a car as they drove past her house. She asked her parents if she could keep the little lab mixed pup and give her a home.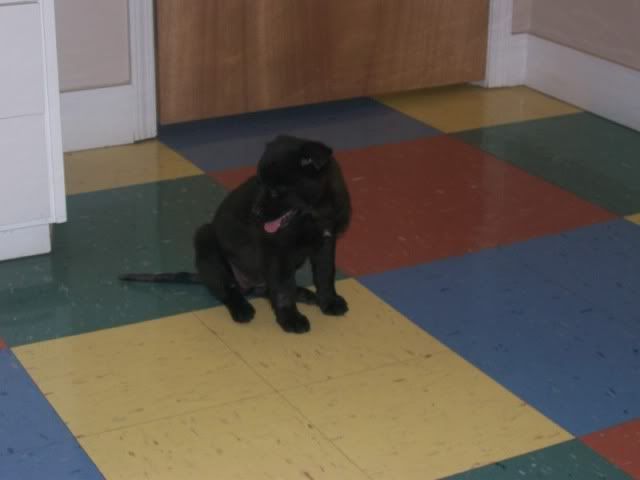 The heartbroken parents explained that with the ongoing leukemia treatments and medical bills for her, their daughter, they knew they could not afford to also take care of a puppy. They could not afford the treatment for the puppy's ringworm and other infections. Also because the little girl is undergoing chemo she can not be exposed to germs and diseases, even from a little puppy.
Standing in the vet's office, with a bandanna where her hair used to be, this little girl's only request for Christmas is that her puppy finds a good loving home. She is very worried about her puppy as the poor little thing has already had such a rough start and she did not want the puppy going to the shelter where the chances of a home are slim and none. Now it is up to us, the vet is asking us if we can help. Can we raise enough funds to help this puppy and give a sick little girl her Christmas wish?
Total Needed: $650
Donations: $650
Still Need: $0
Many thanks to all of our supporters who consistently give from their hearts to all the pets we save together. Please note donations for this puppy should be marked Christmas Wish. Remember, all donations are tax deductible, please crosspost!
About Saving Shelter Pets:
Saving Shelter Pets (SSP) strives to eliminate euthanasia as a method of population control for homeless companion animals, by providing no-kill alternative solutions and pro-actively addressing the problem of pet overpopulation.

SSP is a nonprofit, 501(c)(3) organization with supporters nationwide. Please see our FAQs for more information.

NOTE: The animals pictured in this or any other message are NOT available for adoption. We do not have the resources to properly screen adoptive homes. We send our dogs and cats to pre-approved no-kill rescues in the Northeast, and these rescues will then adopt them into wonderful forever homes.