UPDATE, Monday, April 20 - Woo hoo!! We received all funds, so Zoey and her puppies are SAFE!! Thanks to everyone who donated, cross-posted, sent positive energy, etc. Jeanette will be so VERY grateful to know that her little doggie family will be going to a safe rescue instead of an uncertain fate in the local shelter. SSP is truly fortunate to have you all working with us - together we can make great things happen!! Have a fantastic week!! :)
Below is an email that was forwarded to us by a fellow rescuer. The original letter comes from a wonderful woman, Jeanette, in need of help for a momma dog ("Zoey") and her 6 puppies that she had rescued but is unable to find homes for. We have found a no-kill rescue in the Northeast willing to take this family, provided we can raise the sponsorship to cover full vetting for all 7, spay surgery for Zoey, and transport costs to the Northeast.
If you would like to help this momma dog and her 7 pups, please visit our website to make a donation towards their care:
http://savingshelterpets.com/index_don.html
Amount needed:
$525
Raised so far:
$535
Still needed:
FULLY SPONSORED!!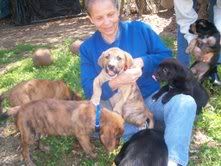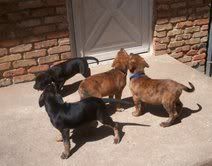 Jeanette's plea for help:
My name is Jeanette and I would like to give you a short story of a severe situation I have been.

In November of 2008, I found two fine dogs crossing a busy street that I live on and I knew that if I didnt bring them in, they would be killed and I have seen this on my street many times. We tried very hard to locate the owners of theses dogs but without any success.

My next step was to call all animal "no kill" shelters but in Georgia there is no available room for dogs anywhere. Unfortunately, to make matters worse I'm very ill with a terminal lung disease. I opted against a lung transplant and have been very blessed to live beyond the years given by my doctors; but I can tell that I am getting weak and tired and it's impossible for me to take on any other responsibilities with dogs as I have one of my own and two other rescues. Also, I have no room nor the financial means with which to take on this added responsibility of these fine dogs and wonderful dogs.

The female dog is a Rhodesian Richback and the father is a Yellow Lab and Akitu - two extremely beautiful and intelligent dogs. I was very fortunate to find a good home for the Father with a well-to-do family that could meet all his needs in every way.

Unfortunately, the female was pregnant and I could not place her so I kept her until she had the puppies on January 21, 2009. All six of them were born healthy and beautiful.

To this point they have been de-wormed, paper trained and potty paper trained. They are also going to be highly intelligent dogs. It amazes me how quick they learn something new everyday at the early age of two months.

Attatched to this email are pictures of the parents and the puppies. It will be painful enough to say goodbye because I love them with all my heart.

These puppies are wonderful and have known nothing but love, hugs and kisses, since the day they were born. I know they will be nothng but a pure blessing and joy to anyone that is lucky enough to adopt them.

Thank you and GOD bless you for sharing the love of dogs as I do.

Sincerely,
Jeanette

About Saving Shelter Pets:
Saving Shelter Pets (SSP) strives to eliminate euthanasia as a method of population control for homeless companion animals, by providing no-kill alternative solutions and pro-actively addressing the problem of pet overpopulation.

SSP is a nonprofit, 501(c)(3) organization with supporters nationwide. Please see our FAQs for more information.

NOTE: The animals pictured in this or any other message are NOT available for adoption. We do not have the resources to properly screen adoptive homes. We send our dogs and cats to pre-approved no-kill rescues in the Northeast, and these rescues will then adopt them into wonderful forever homes.