Just when things were looking up for the group of rescue doggies traveling on SSP Transport #72, tragedy has struck the effort.
We are deeply saddened to tell you all that Lexie, the adorable little hound/doxie mix from this transport, had to be humanely euthanized at our vet office this morning.
Lexie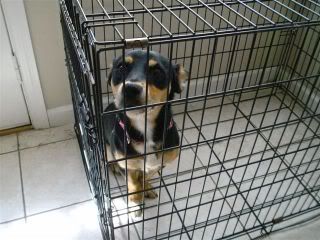 She was in for her final exam to get a Health Certificate and the vet found a problem. Blood work and some other tests revealed that her one kidney was very deformed and not functioning, and her other kidney was shutting down too. Her poor little body was in serious distress, and the vet told us there was nothing he could do for her, so we made the difficult decision to let her go.
Lexie had a rescue in Connecticut waiting for her and crate space reserved on the transport van. But sadly, it was not to be.
We at SSP are absolutely heartbroken for Lexie. Rescue work is not always easy or pleasant, and sometimes it takes a tragedy such as this to remind us just how precious these little lives are.
We are re-naming this transport "Lexie's Rescue Run" to honor her memory and the journey she didn't get to take. Would you please consider making a small donation in Lexie's memory to help the other dogs in this transport get their ride to freedom?
CLICK HERE TO DONATE FOR LEXIE'S RUN
Thanks to all for your support in this very difficult time.
About Saving Shelter Pets:
Saving Shelter Pets (SSP) strives to eliminate euthanasia as a method of population control for homeless companion animals, by providing no-kill alternative solutions and pro-actively addressing the problem of pet overpopulation.

SSP is a nonprofit, 501(c)(3) organization with supporters nationwide. Please see our FAQs for more information.

NOTE: The animals pictured in this or any other message are NOT available for adoption. We do not have the resources to properly screen adoptive homes. We send our dogs and cats to pre-approved no-kill rescues in the Northeast, and these rescues will then adopt them into wonderful forever homes.