UPDATE, Wednedsay, Sept 16 - FINAL FEW HOURS!! PLEASE HELP!! With only hours remaining to the deadline, we are still very short on funds for this rescue effort. We must have cash to pay the bills - otherwise we cannot keep our Transport Program operating!! A donation of any size will help these kids, and allow us to continue our work assisting others too. Deadline TONIGHT!!

Hey all!! SSP is completely covered in puppies - we have thirteen litters for this upcoming transport!! So, now that everyone is getting back into their routine following the holiday weekend, please remember that these homeless doggies in Georgia would really appreciate a donation (any size!!) to help them get their vetting and transport to their rescues. We need to get them out ASAP!! Thanks very much for your support!!

Note: Sorry for the shortage of puppy pics this time around. We'll add them as we can. It's really been a hectic couple of weeks for our Puppy Promises program!!


CLICK HERE TO DONATE!!


Litter of 6 Boxer/Lab Puppies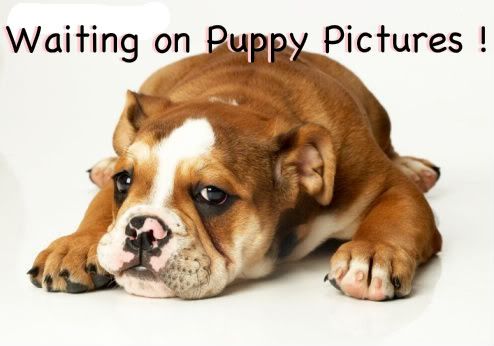 These kids from our Puppy Promises program are eagerly waiting for a chance to get out of Georgia and into a rescue to find a home of their own!! We'll get pictures ASAP so you can see how cute they are. They each need $50 to cover expenses for their vetting and transport, plus the all-important spay surgery for their momma dog and spay/neuter for all other pets in the household.

Total Needed: $300
Funds Raised: $167
STILL NEED: $133


Litter of 6 Treeing Walker/Shepherd Puppies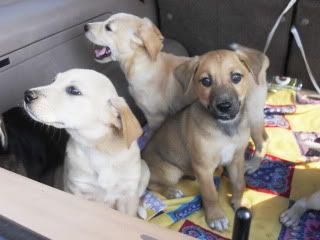 These kids can't understand why no one wants them, but they surely know they don't want to go to the Murray Co shelter!! Hound mixes are everywhere in Georgia, so they have to get to a rescue in the Northeast where their hound personalitites will be better appreciated. $50 each gets them on their way, plus funds the spay/neuter surgeries for their momma and her furry housemates, our pro-active effort to prevent future litters.

Total Needed: $300
Funds Raised: $165
STILL NEED: $135


Litter of 3 Schnauzer Mix Puppies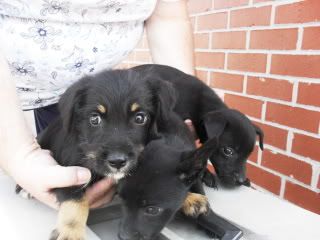 These adorable little black Schnauzer mix pups need SSP's help to stay out of the Murray Co shelter!! Can you possibly help them with a donation? They each need $50 each to cover their vetting and& transport, spay of their momma, and spay/neuter for momma's housemates too.

Total Needed: $150
Funds Raised: $70
STILL NEED: $80


Litter of 4 Bulldog Mix Puppies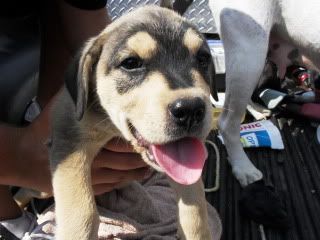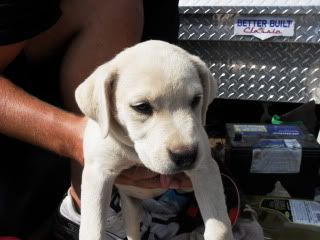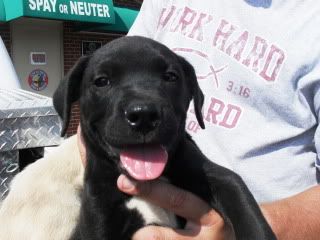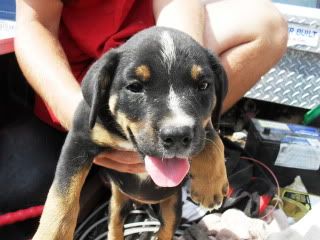 These poor kids from our Puppy Promises program had to be separated from their mom recently, because she actually attacked them viciously!! :( Please help them get to a safe rescue ASAP, with a donation (of any size). They need $50 each for their vetting and transport, and remember that your donations ALSO fund the spay surgery for their grouchy mom so she won't have any more litters.

Total Needed: $200
Funds Raised: $120
STILL NEED: $80


Litter of 3 Bulldog/Terrier Mix Puppies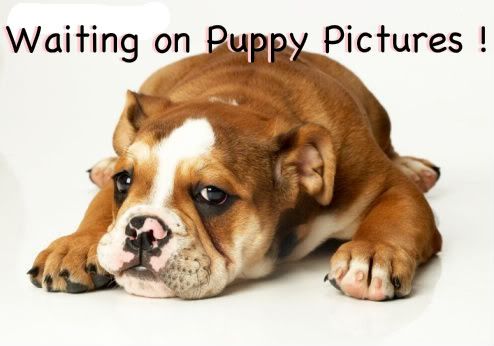 Can you believe we have two Bulldog mix Puppy Promises litters for this transport? We don't have pictures of these kids yet, but we know they must be pretty darn cute!! Please don't let them face an uncertain future in a Georgia shelter - let's get them to a rescue instead!! They can travel with $50 each in funds, which pays their vetting and transport plus the spay/neuter surgeries for their momma and her housemates.

Total Needed: $150
Funds Raised: $85
STILL NEED: $65


Litter of 6 Pit Bull / Bassett Hound Mix Puppies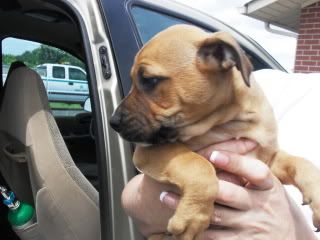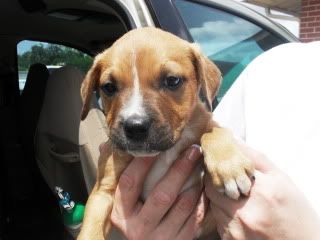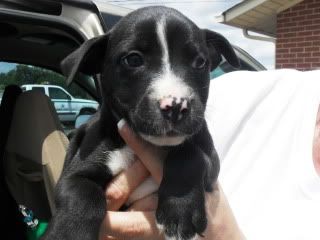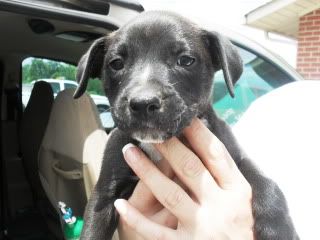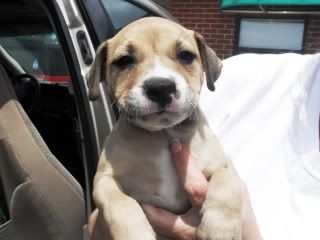 Hey Pittie fans!! We a litter of Pittie mix puppies, and they need your help for funds to get to their rescue!! These kids are from our Puppy Promises program, so we'll spay their momma and her housemates to be sure there are no more unwanted Pittie puppies in this house. Please donate to help us get some Pitties out of Georgia AND provide the critical spay/neuter surgeries to proactively break the cycle of uncontrolled breeding.

Total Needed: $300
Funds Raised: $175
STILL NEED: $125


Litter of 4 Poodle/Lab/Hound Mix Puppies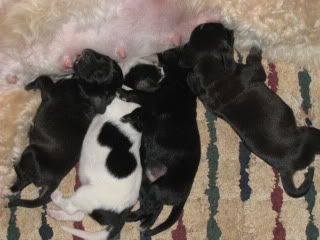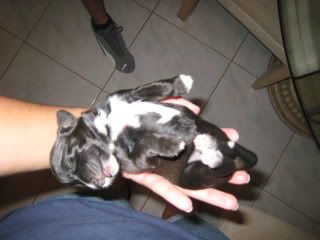 These little ones came from a family in Gwinnett Co who took in a stray male and a stray female - and guess what happend? Yep, they had a litter of puppies! AND, these adorable fuzzy kids are headed for the shelter unless SSP can raise the funds to save them!! The family wants to do the right thing for the pups if possible, and after talking to us they have already neutered their adult male dog. Please help SSP educate this Georgia family about responsible dog ownership, by getting these pups to rescue instead of dumping them at a shelter.

UPDATE: Adopted Locally!!

Total Needed: $0
Funds Raised: $0



Litter of 3 Black Lab Mix Puppies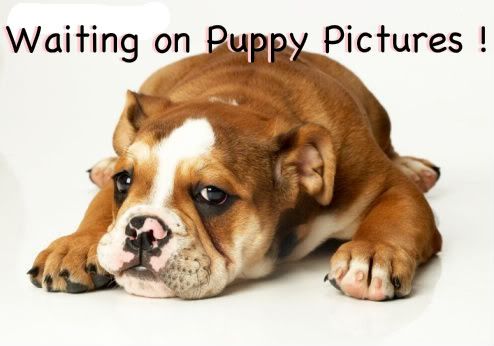 Labs are a dime a dozen in Georgia, and black dogs don't basically don't stand a chance in any overcrowded shelter! Thankfully, these little ones have enrolled in our Puppy Promises program - so they do have a chance at life. But they need your help!! $50 each gets them vetting and transport, plus the spay/neuter for their momma and other pets in their household. Please donate to help SSP get another batch of Black Labs out of Georgia.

UPDATE - Three of six puppies adopted locally!!

Total Needed: $150
Funds Raised: $80
STILL NEED: $70


Litter of 8 Black Lab/Terrier Mix Puppies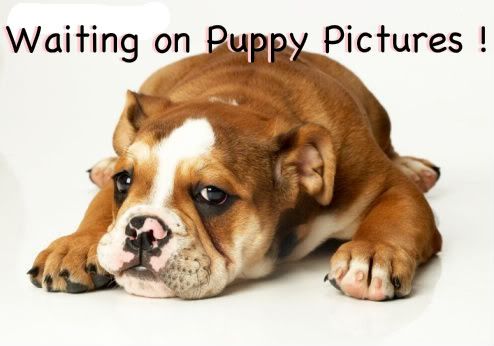 These poor kids from our Puppy Promises program don't know what they did wrong to end up homeless and on the verge of entering the shelter. Unfortunately, their only mistake was being born into a family that doesn't want them, and we are at a loss for how to explain that to them. So we want to get them to a rescue instead, and spay their momma too so this doesn't happen again!! Note that this litter is being taken by a NEW SSP receiving rescue, right in the Atlanta area, so they need less funding than the usual Puppy Promises litters. YAY!! :)

Total Needed: $200
Funds Raised: $128
STILL NEED: $72


Litter of 2 Shepherd Mix Puppies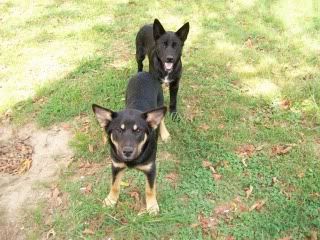 These two Shepherd sweeties know that even though no one wants them in Georgia, they can get to a rescue through SSP's Puppy Promises program!! They are counting on you to help with their vetting and transport expenses, plus spay/neuter their momma and other furry members of their household, , in a proactive effort to prevent future pregancies. Can you help us help them with a donation? They would really appreciate it!!

Total Needed: $100
Funds Raised: $100
FULLY SPONSORED!!


Litter of 6 Doxie/Terrier Mix Puppies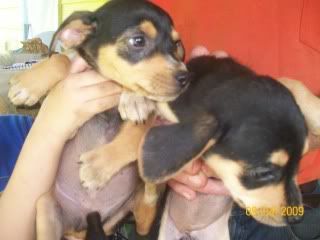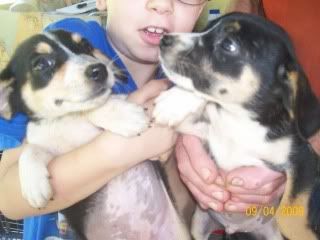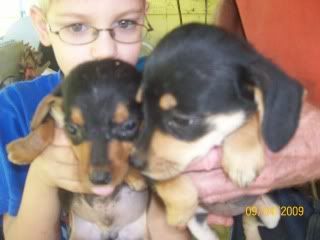 This adorable batch of multi-colored fuzzballs from our Puppy Promises program has a rescue waiting for them in Connecticut - but they need your help to get there!! Funds are needed to cover their vetting and transport, plus spay/neuter for their momma and her housemates. Let's get these kids out of Georgia and on their way to rescue!!

Total Needed: $300
Funds Raised: $165
STILL NEED: $135


Litter of 8 Cattle Dog/Lab Mix Puppies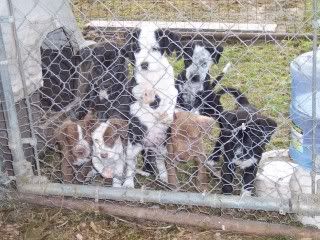 With a breed mix like this, you can bet these guys will be a handful!! They'll need room to roam and plenty of cool doggie toys to keep them occupied. We want this big litter of Puppy Promises kids in the care of a rescue, where they don't have to worry about their future. Let's get them on their way to a loving family and a home to call their own!! $50 each covers their expenses, including spay/neuter surgeries for the momma and her housemates.

Total Needed: $400
Funds Raised: $290
STILL NEED: $110


Litter of 3 Lab/Shep Mix Puppies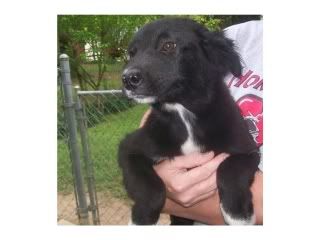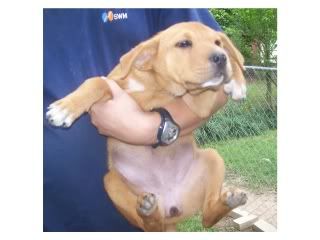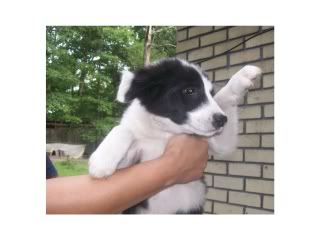 Born in Georgia to a family that doesn't want them, these poor fuzzballs are helpless to avoid the evils that await a young puppy entering the shelter system - except for SSP's Puppy Promises program!! With your help, we can keep another litter of puppies out of the Murray Co facility, AND fund the spay/neuter surgeries for their momma and her furry housemates that proactively prevent future litters. Can you please donate to help cover their expenses?

Total Needed: $150
Funds Raised: $80
STILL NEED: $70


Prince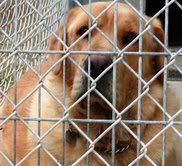 Remember Bo, the Retriever from Transport #72? Well, Prince is Bo's sibling. When we found out Bo had a buddy, we knew we could not leave him behind!! This sweet and gentle big guy needs $200 for his vetting and transport, and he has a rescue ready to take him. Those pleading eyes of his say a lot about how much he wants to join his friend Bo. Can you help him get to his rescue?

Total Needed: $150
Funds Raised: $150
FULLY SPONSORED!!


Jazzy and Rufus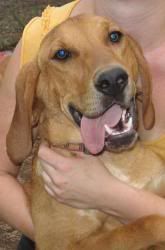 This precious brother and sister pair is just as sweet as can be!! They lost their home in Georgia, but SSP has a rescue waiting for them if they can get the funds to get on their way!! These kids have a partial sponsorship too, so they only need $150 each to cover their vetting and transport expenses. Can you donate to help a pair of homeless hounds turn their luck around and get to a rescue for a fresh start in life?

Total Needed: $300
Funds Raised: $300
FULLY SPONSORED!!

About Saving Shelter Pets:
Saving Shelter Pets (SSP) strives to eliminate euthanasia as a method of population control for homeless companion animals, by providing no-kill alternative solutions and pro-actively addressing the problem of pet overpopulation.

SSP is a nonprofit, 501(c)(3) organization with supporters nationwide. Please see our FAQs for more information.

NOTE: The animals pictured in this or any other message are NOT available for adoption. We do not have the resources to properly screen adoptive homes. We send our dogs and cats to pre-approved no-kill rescues in the Northeast, and these rescues will then adopt them into wonderful forever homes.