Do you remember Bonnie, the Aussie mix from our March transport? We received an update and picture recently from her new forever home.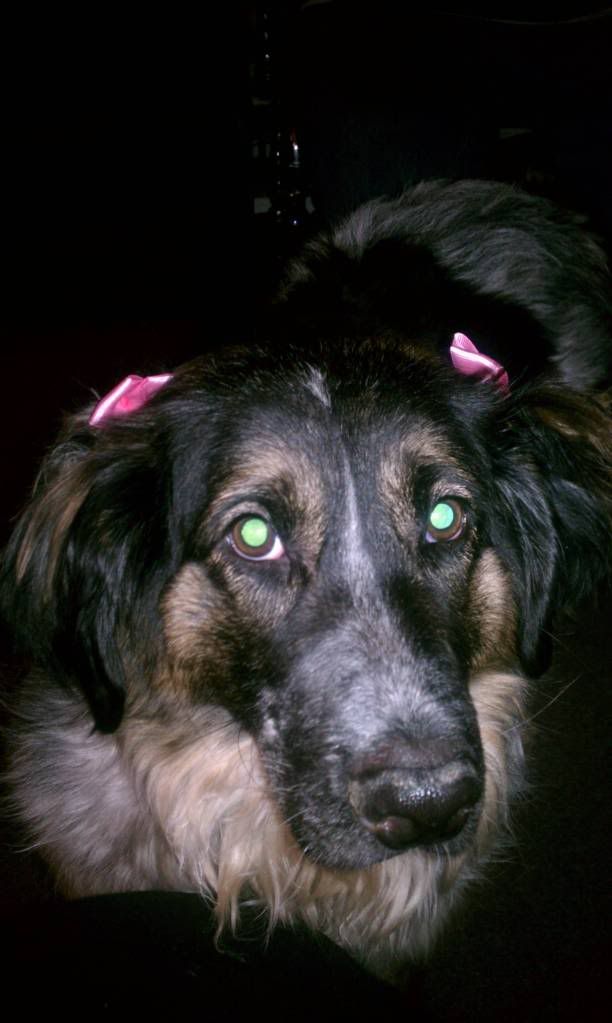 "Just a quick note and a picture to let you know that Bonnie is doing really well. Her service dog harness will be here this week. As my mobility dog she is doing great. She is so sweet and gets along great with all my other animals. Out of nowhere she will just start running up and down my hallway. She is so funny and is so loved by anyone that meets her. Thank you so much for her. Do you like her bows? My sons laugh at them. She's my girl. Thank you again."
So there is Bonnie today - happy, helpful (as a mobility dog), much loved, and enjoying life. She even gets to wear pink bows!! :)
Bonnie's happy ending is especially sweet, because she had a difficult journey to get there. Bonnie had some health issues when she was initially rescued - mange and heartworm. And after getting treatment for those, she was spayed, and had some scary (and potentially life-threatening!) complications during her surgery. It was a long time before she was healthy again. But through all of her treatments and recuperation periods, she remained the kind and gentle soul that she's always been, giving kisses and a tail wag to anyone who talked to her.
Saving Shelter Pets is pleased and proud to have helped in Bonnie's journey to a happy forever family, and we wanted to share her story with our supporters, because YOU also play a critical role in the rescue of Bonnie, and lots of others like her.
Please continue to support our work for deserving dogs like Bonnie, and with your help, we'll continue to make happy endings for them together. Thanks!!
About Saving Shelter Pets:
Saving Shelter Pets (SSP) strives to eliminate euthanasia as a method of population control for homeless companion animals, by providing no-kill alternative solutions and pro-actively addressing the problem of pet overpopulation.

SSP is a nonprofit, 501(c)(3) organization with supporters nationwide. Please see our FAQs for more information.

NOTE: The animals pictured in this or any other message are NOT available for adoption. We do not have the resources to properly screen adoptive homes. We send our dogs and cats to pre-approved no-kill rescues in the Northeast, and these rescues will then adopt them into wonderful forever homes.